Centre for Dance Education Student Spotlight
"Decade 2 Dance" Centre scholars: Camille Jackson and Covin Washington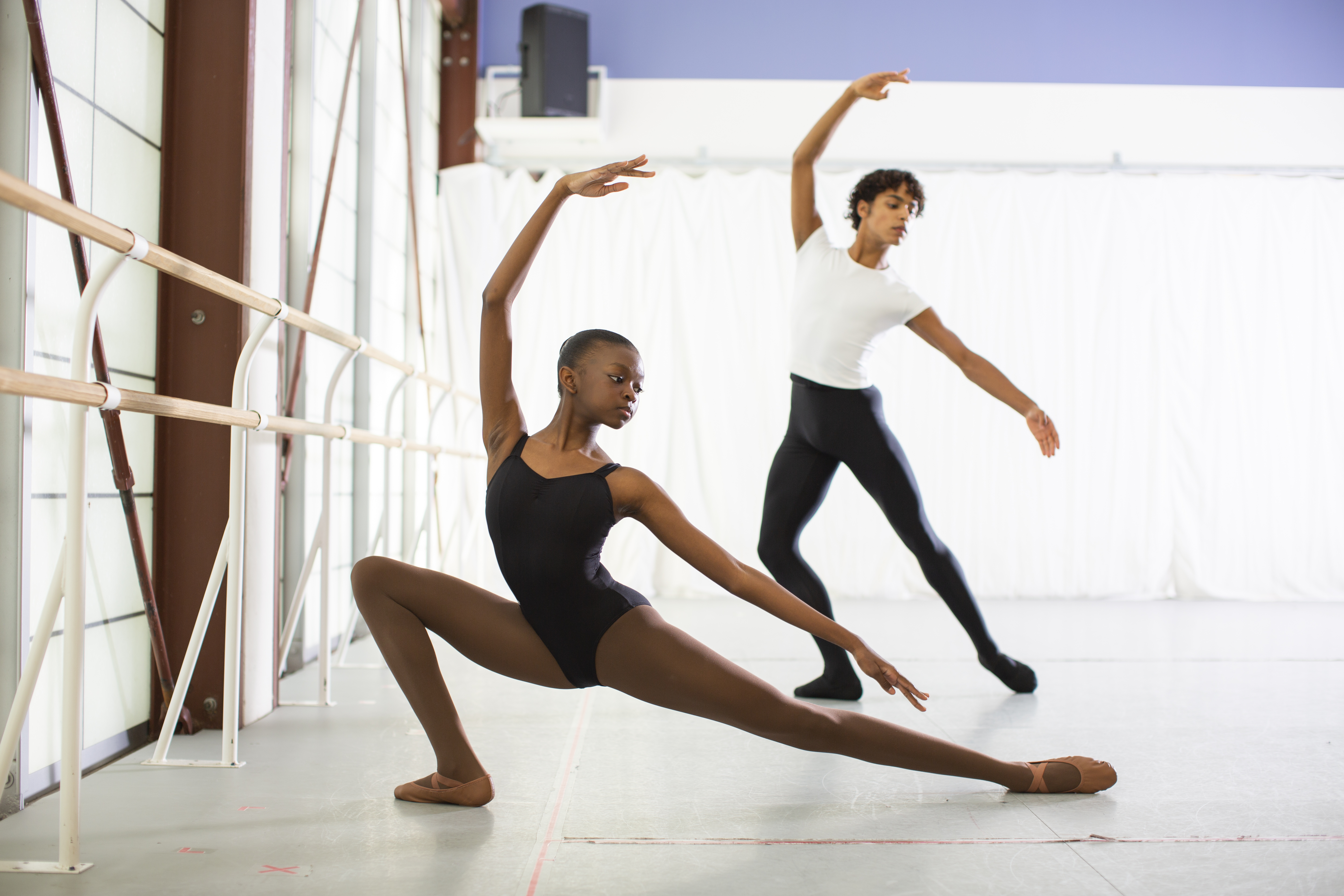 The Atlanta Ballet Centre for Dance Education aims to provide its students with the education, opportunity and confidence to pursue their dreams to dance. We celebrate each and every one of the talented young dancers that make up our Centre family, and today, we are thrilled to spotlight two Decade 2 Dance Centre scholars who are in the midst of their journeys: Camille Jackson and Covin Washington.
Camille started at the Centre as a six-year-old in 2013|2014, and quickly worked her way through the B levels. She moved up to Academy III in 2018|2019, and was recently promoted to Academy V – the most advanced level in the Centre's intense Academy program. Camille has been on merit scholarships for the past three years, and in addition to participating in the Centre's Summer Intensive programs, has performed in Atlanta Ballet's production of The Nutcracker and multiple family ballets. While she was accepted to train at the Royal Ballet School in London during summer of 2020, she was unable to attend due to the pandemic.
Covin started as a scholarship student at Atlanta Ballet's AileyCamp at age 11. From there, he continued studying multiple disciplines at the Centre, including ballet, modern and jazz. Covin has worked his way through the Academy levels, and – like Camille – performed in Atlanta Ballet's production of The Nutcracker, participated in the Centre's Summer Intensive programs, and is currently dancing at the Academy V level. Covin was recently offered full scholarships to summer intensive programs at multiple nationally acclaimed ballet schools, and has chosen to spend this coming summer training at San Francisco Ballet.
"It has been such a joy to watch Camille and Covin grow and thrive at the Centre throughout the years," said Atlanta Ballet Centre for Dance Education Dean Sharon Story. "These two inspire all of us every day with their great attitudes, outstanding work ethic and brilliant talent. They both have very bright futures ahead of them, and I can't wait to watch them unfold."
Both Camille and Covin are currently scholars of the Centre's Decade 2 Dance initiative, a selective program aimed to provide opportunity and access to young students who may or may not otherwise have the resources to pursue a career in dance. Through this initiative, select budding dancers are granted full scholarships, academic tutorial support, and Academy-level elite training at the Atlanta Ballet Centre for Dance Education. After 10 years of Decade 2 Dance scholarship training with the Academy, these dancers will be well equipped to join the ranks of Atlanta Ballet 2, Atlanta Ballet's professional company, and other prestigious companies around the world.
"Camille and Covin are both perfect ambassadors for the Centre's Decade 2 Dance initiative," said Dean Story. "They set wonderful examples for the young, aspiring dancers that will follow in their footsteps. We are all extremely proud of both of them, and feel honored to play a part in their journeys to achieve their dance dreams."
To learn more about Camille and Covin, including their experiences training at the Centre, their fears and inspirations, and their hopes for the future, read the Q&A below!


Q&A WITH CAMILLE JACKSON & COVIN WASHINGTON:
AB: What is the Academy experience like at AB?
COVIN: The Academy is not only a place for me to train and work towards pursuing a career in the dance world, but a place for me to feel accepted and supported. I have gained such an extraordinary support system and have been given the opportunity to study a wide range of disciplines, such as Modern, Character Dance and Dance History that allow me to mature as a dancer. I am able to let go of all of my worries at the door, and just invest all of my energy into improving and striving to better than I was yesterday.
AB: What would you say to a dancer of color considering the Atlanta Ballet Centre for Dance Education for their training?
CAMILLE: It is a really great environment to train in. Everyone starts on the same playing field, and everyone has to work to get where they want. Nothing is handed to anyone on a silver platter, which is always something to think about when looking for a place to train.
AB: As a dancer of color, what are your fears? What are your hopes for the future after the recent cries for equity and inclusion in ballet?
COVIN: There are many fears that I and many people of color in the dance world have. I fear being used as a token or being given an opportunity solely based on my skin color, and not on my merit. This thought builds a mental block of whether I am good enough or deserving of what I have been given, whether it be a scholarship or a role in a choreographic work. I hope to see dancers of color in masses instead of tokens. I want to be able to walk into an audition and not stick out because of my skin color, but instead be a part of an array of skin tones in the room. Lastly, I want dancers of color to be fully appreciated for our dancing and not to be overshadowed by the color of our skin.
AB: What or who inspired you to study ballet?
CAMILLE: Dancers of color like Misty Copeland, Michaela DePrince, Calvin Royal III, and many others. They are huge inspirations to break the many glass ceilings in the ballet world. Other dancers that inspire me are fellow tall ballerinas, like Svetlana Zakharova, or Nadyne Bispo in the Atlanta Ballet company. They inspire me to embrace my long limbs and to never feel small.
AB: What is your proudest moment in your ballet career so far?
COVIN: One of the proudest moments in my ballet career is when I was given the opportunity to work with So Danca in their collaboration with the Atlanta Ballet Centre for Dance Education. This moment was the first time I was able to be a part of something with such a positive impact and message, and I am forever grateful for the opportunity.
AB: What is your dream role?
CAMILLE: Odette/Odile definitely! It is such a physically demanding role, but also demanding because of the acting that is crucial to properly perform it.

Article contributed by Julia Berg.