Dance from a Different Lens: The Man Behind the Camera
The Man Behind the Camera - Brian Wallenberg
As the uncertainty surrounding COVID-19 and orders to quarantine or practice social distancing began to increase, it forced many arts organizations to cut their season short, take an extended break from the stage, or ultimately close their doors for good. In addition to generous donations, the only other option for companies to survive and continue to engage with patrons was to switch to a virtual platform. With the number of COVID-19 cases on the rise, dance companies were forced to cancel the one show that brings in the most revenue each year — The Nutcracker. Atlanta Ballet announced its cancellation of The Nutcracker in early October and opted instead to host a drive-in movie. A presentation that has never been done in the history of Atlanta Ballet, it was a fitting challenge for a man who knows choreography and dance as he was once a dancer with the Company himself.
Before beginning his career in videography, Brian Wallenberg once danced as an Atlanta Ballet company dancer on the same stages on which he now records. Unfamiliar with the world of musicals, a friend in his hometown of Victoria, Texas, suggested that a group of them audition for a musical at their community theater. Although he didn't know anything about theater or what he was doing, everyone who auditioned got a spot in the performance. This first experience not only sparked Brian's interest in musicals, but also encouraged him to enroll in dance classes in order to boost his chances of one day being on Broadway. After a trip to New York, his mom saw how serious he was about the art and agreed to enroll him in dance classes.
It only took a few classes before his teachers took note of the potential that Brian possessed. Brian went on to continue his dance training at Houston Ballet Academy. During his time as a student, Houston Ballet reached out to Rosemary Miles, Atlanta Ballet's ballet mistress at the time, and encouraged him to audition for Atlanta Ballet. The following year, after returning to Houston Ballet as an apprentice, Brian was invited back to audition for a spot in Atlanta Ballet's company. He was a Company member from 1998-2011. Twenty-two years later, Brian found many opportunities to grow with the organization.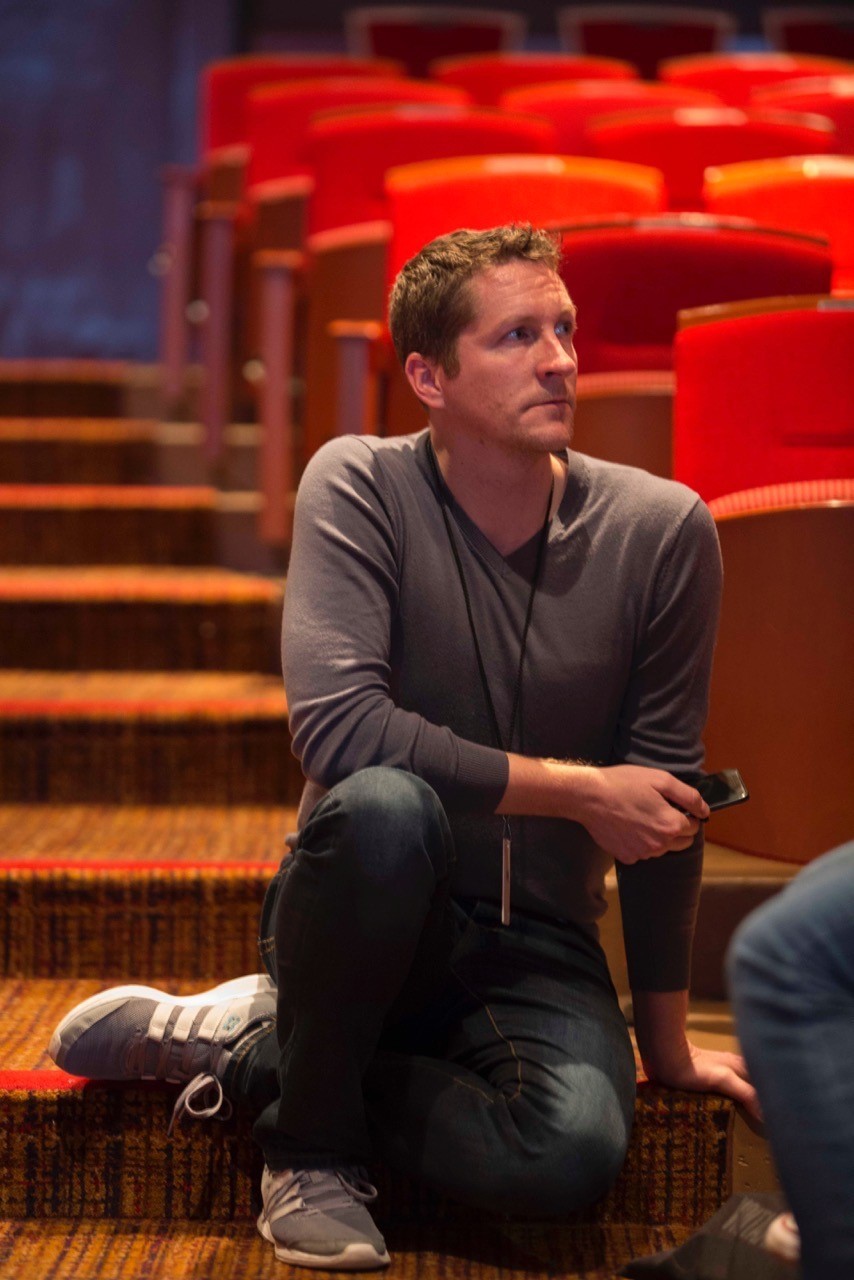 While a Company dancer, he discovered an interest in filming rehearsals and footage behind the scenes. The videographers at the time were outside contractors who would just do a wide shot and a moving shot of their dress rehearsals. One and done. "It was rare that the dancers I was dancing with ever got to see a video of anything. We never got access to that stuff. If someone had a video, we were so excited to actually get a chance to watch it and see what it was like," said Brian. Without taking any formal classes and with a lot of trial and error, Brian taught himself how to use a camera and how to use different software. "You learn so much just by doing it. So, over time I've learned how to use it all. And I'm kind of a tech minded person anyway. Technology is something I'm pretty familiar with, so it was something that I was just able to teach myself how to do. I'm still learning." Between 2007 and 2008, Brian created a Facebook group for Atlanta Ballet, before any brands were using this platform, as a way for dancers and fans to engage with each other. Creating fun videos and piecing together content for social media was just something that really interested him. Little did he know it would turn into a job opportunity when Atlanta Ballet asked him to join the marketing team part-time. As social media began to grow, he was asked to contribute more video content. He continued to film rehearsals, including the preview for big, which was then used in a commercial for the production. Realizing that he had to start thinking about life after his dance career and to make his business official, Brian launched Saturnblu Productions in 2007. Once his marketing work began to build, Atlanta Ballet's Chief Marketing Officer, Tricia Ekholm and Barry Hughson, Atlanta Ballet's CEO at the time, invited him to join the Marketing team full time whenever he was ready. Atlanta Ballet bought video pieces that he was filming, editing and creating. "[It was] one smooth transition at the time and not many people get the opportunity, so I was very lucky." 
What sets Brian apart from other videographers in the arts? Both his passion for dance and his experience as a dancer allows him to capture the right angles in order to enhance the story being portrayed on stage. "[I] love dance so much and it's been such a big part of my life, so being a videographer in the world of dance is huge for me because I love it. I love to capture it. I love to share it with other people. So that's really my favorite part — is being able to capture something that I'm passionate about and love so much and share that with other people." His ability to tell stories without speaking is what attracted other arts organizations to use him for their own marketing purposes. In 2019, he began filming dress rehearsals in the evening for his friends at Theatrical Outfit. They reached out to him because they were interested in highlight reels that showcase iconic moments of production, without much dialogue. He also assists his friends who have their own production companies, as well as Out Front Theatre Company, which is ran by his husband. Although he credits having experience in different areas within the arts to strengthening his skills with filming dance, work pertaining to Atlanta Ballet will always be his focus. "I always want Atlanta Ballet to be a part of my life in some way and I hope I work here for many, many, years to come. Because dance means a lot to me, Atlanta Ballet has given me so much and I always want to be able to give back to Atlanta Ballet and support Atlanta Ballet in some shape or form," Brian adds. "I feel like I do that because I know this organization so well. I know dance. I've been the product so I understand it better than someone that just goes and shoots it."
After cancelling the remaining 2019/20 performances and in-person classes, Atlanta Ballet relied heavily in the spring, as the pandemic caused shutdowns, on offering virtual classes alongside clips from previous performances in order to keep dance alive and their audience engaged. Prior to the global shutdowns and social distance practices currently in place, it was simple for Brian to set up and film whatever was in front of him. Once livestreaming classes became an option, he had much more control of what happened in the studios. He served as both videographer and director working with the instructors, accompanists, and dancers, as well as being responsible for putting anyone who was nervous about going live at ease. 
Each day, Brian wakes up at 8:00 a.m., prepares his coffee and jumps right into work as he prepares for his biggest project yet — Atlanta Ballet's The Nutcracker Drive-In movie — a full-length, two-act ballet. It's worth noting that Atlanta Ballet performances are only filmed for archival and restaging purposes, therefore no one expected it to be shown widely to the public. Did he mention that it's the biggest project he's ever worked on? "There are so many moving parts that I'm trying to weave all together so that it really is the best version of our Nutcracker that we can produce given the circumstances."
One thing that remains unchanged about his work set up when it comes to filming and editing is the number of people working on this project. He remains a one-man team. The amount of footage that he must continuously upload and edit makes it impossible to split the work with anyone else, mainly due to difficulty in sharing the large video files, as it would max out everyone's internet bandwidth. He recently had an intern, Bandeja Munir, who joined him this fall to handle smaller projects that may pop up. "I'm very grateful to have her at least to be able to do some of these other projects so that I don't have to…Editing something this large, I have to have huge amounts of time where I'm just sitting and focused on that. I can't stop and start and stop and start. For me, my editing process is like that. I need to have big chunks of time where I'm just focused on editing whatever I'm working on." Brian usually only stops when he gets to a point where he can export a version of it to Atlanta Ballet's Vimeo page, and then takes time to watch what he just edited on his television. It's important for him to see it through a different context and hear it through different speakers.
Experiencing a live performance, mostly set to a live orchestra is what makes attending a ballet extra special. However, in today's climate, virtual performances are the next best thing and companies need to adjust accordingly. For Brian, this adjustment means changing up his approach when it comes to his style of filming. "Video is going to be everywhere, and everyone has to have it now. So I think that a lot of people are going to be learning how to edit and [how] to shoot. And you just do the best that you can with what you've got and that's just the reality of it," Brian notes. Until we reach that point, his main concern is creating the best version of The Nutcracker on the big screen that people would appreciate and enjoy as much as they do the live performance.
Article contributed by Desiree O. Houston