The Inspiration Behind Significant Others
April 28, 2023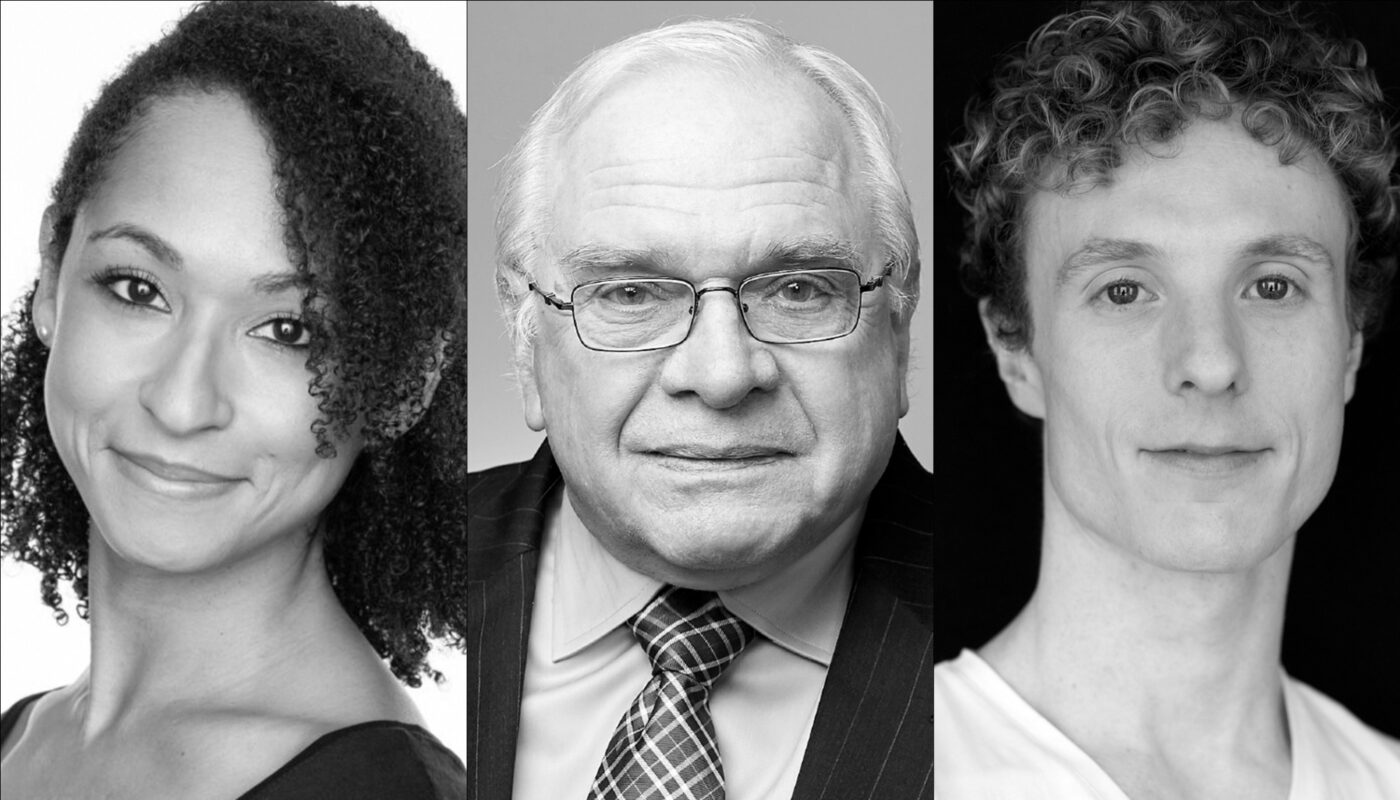 Carnivale by Claudia Schreier
A World Premiere
Supported in part by the National Endowment for the Arts
Claudia Schreier has been Atlanta Ballet's choreographer-in-residence since April 2020. She began her choreographic journey at the age of twelve, but it was during her university years that she really delved into the discipline. Her collegiate training allowed her to engage in inquisitive and exploratory creation, but with a rigorous intellectual framework.
Schreier's latest world premiere, Carnivale, will be presented in Significant Others, an evening of short ballets surrounding artistic collaboration. This will be Schreier's fourth world premiere with the Company, with previous works First Impulse, Pleiades Dances and Fauna receiving critical acclaim. When choreographing First Impulse for Atlanta Ballet, her first time working with the company, Schreier said, "the work that I do can't exist without the bodies on which I create, and when those dancers are part of the creative process in a collaborative way that respects my original intent… that's really the best you can ask for. I come in with set ideas knowing full well that they will morph and change."
Schreier is self-declared obsessed with creating. But when creating so often and from such a young age how does one stay inspired? Schreier, "surrounds [her]self with as much art as possible." She is always listening to a variety of music, not just classical, which is what she primarily choreographs to. Over her years as a choreographer, it has become increasingly evident that just twenty minutes a day helps with her creativity. She finds that taking intentional time to engage with something new, or recentering, prevents her from falling into habitual patterns. Most importantly though, she reminds herself and others to "keep an open mind on all fronts."
In Carnivale, music is once again the inspiration of Schreier's choreography, this time to the playful Concierto in modo galante by Spanish composer Joaquín Rodrigo. This joyful, fast-paced score beautifully enables the intricate choreography and movement vocabulary of this jubilant ballet set to a festival theme. The fun, almost theatrical essence will be further brought to life by bold and colorful costume designs created by Atlanta Ballet's Abigail Dupree-Polston.
Listen to what Claudia Schreier has to say about Carnivale, catch a glimpse of Atlanta Ballet company dancers in rehearsal, and get a sneak preview of the costume drawings.
Three Preludes by Ben Stevenson
Ben Stevenson served as artistic director of Houston Ballet from 1976-2003, raising the company from a regional troupe of twenty-eight dancers to an internationally acclaimed ensemble of over fifty artists. In July 2003, he was appointed artistic director emeritus of Houston Ballet, and the company's affiliated school was renamed Houston Ballet's Ben Stevenson Academy. Stevenson has received numerous awards for his choreography, including three gold medals at the International Ballet Competitions of 1972, 1982, and 1986. A native of Portsmouth, England, Ben Stevenson trained and performed in the United Kingdom at the start of his career. He danced as a principal dancer for Sadler's Wells Royal Ballet and English National Ballet to much acclaim and praise. For his contributions to international dance, Stevenson was named an Officer of the Order of the British Empire (O.B.E.) by Queen Elizabeth II in the New Year's Honors List in December 1999.
Stevenson says, "Classical ballet is a language, not a style." With this language, Three Preludes, being performed in Significant Others, evokes deep emotion in the audience. The tale is, simply put, an account of two dancers falling in love. The beautifully pure story is told only through a ballet barre, a piano, and the dancers in rehearsal clothes.
The ballet begins with the barre horizontally dividing the space, the pair of soon-to-be lovers, divided. The building tension and anticipation are exaggerated by the barrier between them. Eventually, the couple ends up falling for each other, both over and under the barre. The three sections of the ballet parallel the growing emotions of the dancers, getting larger and faster by the minute, until the audience and dancers are all swept off their feet.
Dawn Scannell, Stager and Repetiteur for Three Preludes has worked with Stevenson for many years and has staged his full-length Don Quixote in her capacity as Ballet Master for Houston Ballet. Scannell's trademarks are her attention to detail and ability to recreate a choreographer's vision; her care for fulfilling the artistic integrity of choreography from classical to contemporary has allowed her to stage and coach effectively for numerous companies. More in this video.
Created by Stevenson in 1969, the international award-winning Three Preludes is performed to a selection of Sergei Rachmaninoff preludes. Atlanta Ballet Company Accompanist Western-Li Summerton will be playing live alongside the dancers. "This breathtaking work uses these preludes as a backdrop for a budding romance that grows and evolves throughout the ballet," he enthuses. "Audience members will be captivated by the rich texture of the graceful partnering in conjunction with the heart stirring score of Rachmaninoff."
Significant Others by Remi Wörtmeyer
A World Premiere
Underwritten by the Council for Quality Growth, in honor of Carol Tomé
Remi Wörtmeyer is a multidisciplinary artist whose work for stage, film, fashion, and art galleries has been shown and sold worldwide. Originally from Australia, Wörtmeyer settled in the Netherlands where he has resided since joining the Dutch National Ballet in 2003. His unique style comes from his experiments in combining visual and performing arts, and in his world premiere for Atlanta Ballet, Significant Others, Wörtmeyer delves into collaboration and partnerships in the fine arts community.
Using the music of Fanny Mendelssohn-Hensel and the visual art of Sonia Delaunay as inspiration and starting points for his work, Wörtmeyer sets out to prove that artists create their best works by inspiring and supporting each other as equals, particularly when bound together by the powerful force we call love. He explores the concept of a "significant other" being not only a romantic partner, but also a business partner, a sibling, or a parent. In focusing on the works of Fanny Mendelssohn-Hensel and Sonia Delaunay, he highlights accomplished artists who have often been overlooked as the "other halves" of their more famous male collaborators.
The 19th-century sibling-composer duo, Felix Mendelssohn and Fanny Mendelssohn-Hensel, have been referred to as musical "soulmates." Felix, the younger, would become one of history's most famous composers while his sister, a talented pianist and composer in her own right, has been mostly forgotten in musical history. Fanny taught young Felix the basics of constructing music. As Felix grew up, he eventually joined his father in suppressing and discouraging the publication of her pieces. As a woman, they believed her talents to be an ornament, where Felix could utilize his talents for a career. Upon Fanny's death, Felix composed String Quartet No. 6 in F minor, in her memory. It would become one of his last works as he died following a series of strokes, six months after his sister.
Sonia and Robert Delaunay are credited for the creation of the art movement, Orphism. The genre was an offshoot of cubism, which was practiced by Pablo Picasso, Salvador Dali and Pal Cezanne. Orphism had a new focus on color and light. The term was named after the ancient Greek poet and musician Orpheus, as it was believed that paintings should be like music for the eyes. Sonia and Robert used contrasting colors, colors opposite each other on the color wheel, to exaggerate differences. They soon discovered that the contrast heightened the intensity of the colors, making them appear more vivid than they would on their own.
Wörtmeyer's unique talents and award-winning artistry will be on display in Significant Others, in his multi-faceted role of Choreographer, Scenic Designer and Costume Designer. Audiences will delight in this visually stunning world premiere celebrating artistic collaboration. In our latest video, Wörtmeyer explains the inspirations for his work and delves into collaboration and partnerships in the fine arts community.
Significant Others, May 12-14 at the Cobb Energy Performing Arts Centre. For more information and to purchase tickets, click here.